The suction valve inlet of the pump element must be entirely below the oil level to prevent any air being drawn in.
The piston and roller bearings must be fully immersed under the oil level during continuous operation
to ensure continuous lubrication.
Material: Steel; hardened, ground functional inner parts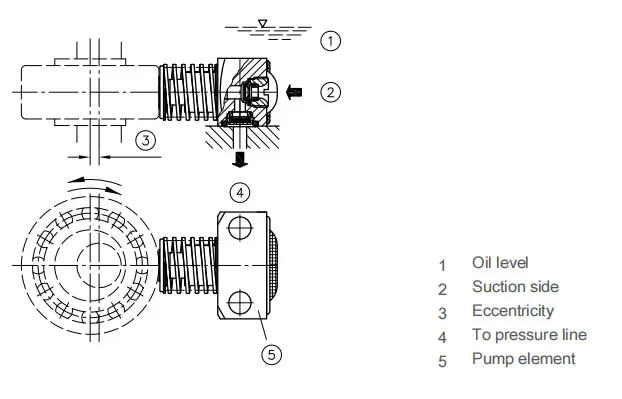 Temperatures Ambient: approx. -40 - +80°C, Fluid: -25 - +80°C, Note the viscosity range!
Start temperature: down to -40°C is permissible (observe start viscosities!),
as long as the steady-state temperature is at least 20K higher during subsequent operation.
Biologically degradable pressure fluids: Observe manufacturer's specifications.
By consideration of the compatibility with seal material not over +70°C.
efficiency : + 0.95

stroke frequency: min. 200 rpm, max. 2850 rpm
Below min. stroke frequency: volumetric efficiency will drop swiftly.
Above max. stroke frequency: suction problems may occur (with small cylinder diameters)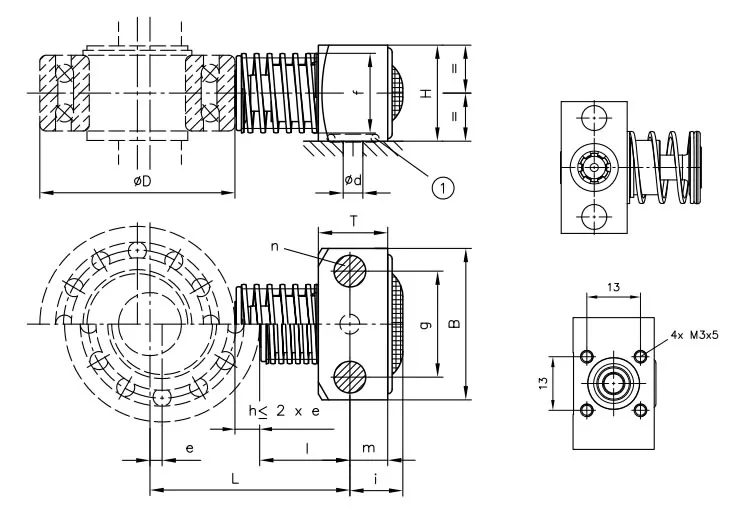 Weight:
MPE 4 - 9: 90 g
Drive type: motor via rotating shaft
Shaft rotation direction: any (direction of delivery remains unchanged)
A roller bearing is mounted eccentrically on the shaft. The outer race of the bearing acts on the back of the pump element.
This generates the lifting movement in conjunction with the return spring.
The flow rate is controlled by automatic suction and pressure control valves in the housing of the pump piston plunger.
Features of Pump piston:

available as individual unit
universal usage
suited to high pressures of up to 700 bar
Intended applications:

Machine tools
Devices for workpiece clamping
Image Gallery:
PROVIDING EXCELLENT SOLUTIONS BY SAIVS™
if you are looking for factory manufacturers and suppliers of HAWE Radial Piston Pump Element MPE 4/5/6/7/8/9,
choose SAIVS TOOL because of the high quality, variety of choices, low price and fast delivery.
you can easily find the best HAWE Radial Piston Pump Element MPE 4/5/6/7/8/9 solution here!
Speak to one of our experts today to learn more about our HAWE Radial Piston Pump Element MPE 4/5/6/7/8/9 products solutions.
How can I contact you?
NO. 626 Yuncai Road, Yunlong Town, Yinzhou, Ningbo, Zhejiang, China.
Are you a factory or a trading company?
We are the original manufacturer with 20 years experience.
How soon can I receive a quote?
We will respond to you within 24 hours.