Repair Methods For Digital Torque Wrench
repair methods 1 for digital Torque Wrench
1. Firstly, check if the connection wire of the sensor of your digital
torque wrench is properly connected and if there is a signal wire of the sensor
2. Short circuit or open circuit, and whether there is any false soldering at the welding points
repair method 2 for Digital Torque Wrench
1. Then check if your instrument is fully charged.
If the charging is not enough, it can easily cause abnormal startup,
unstable display, and online bouncing. When using logic pens and oscilloscopes
to detect signals, be careful not to touch two probes together
2. The star measuring pin, due to the nature of this condition,
constitutes a short circuit when powered on.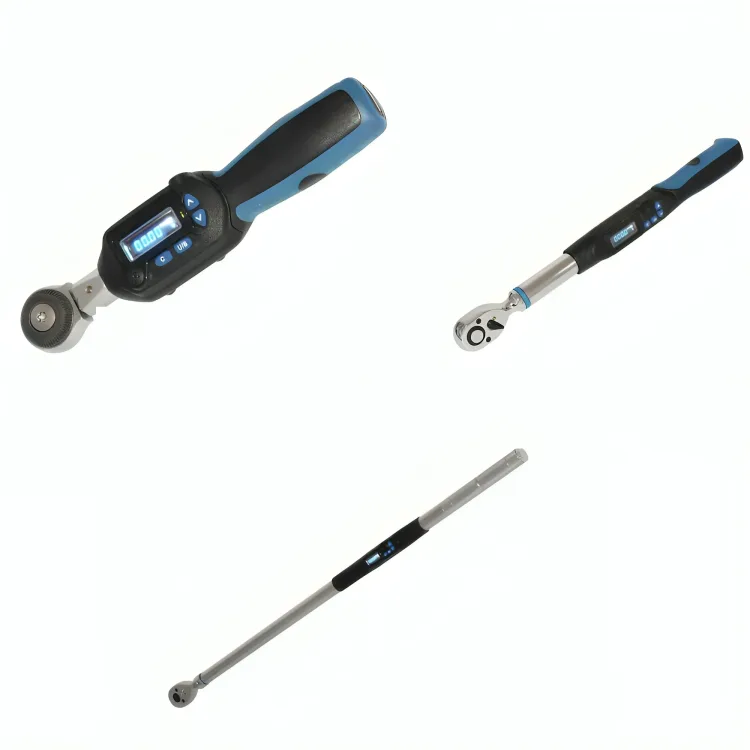 Repair Method 3 for Digital Display Torsion Vibrator
1. When using the ohm gear of a multimeter, remember not to measure with electricity.
When detecting the extinction capacitor in the power supply of the
digital display torsion tester, the electrolytic capacitor should be electrified first.
2. Short circuit the positive and negative poles of the container,
and do not use the lead wire instead of the wire to discharge the
capacitor during the short circuit, as it can easily burn the core wire.
Can take a 220V, 50W light bulb with a lamp cap lead,
connect it to both ends of the capacitor, and the bulb will flash at the moment of discharge.
Repair Method 4 for Digital Display Torsion Hand
1. When measuring the parameters of each point, ordinary hand stitches
can be soldered onto the multimeter's probe to puncture the paint layer
and directly measure each point, without the need to peel off
the paint layer on a large area, which will form oxidation of the copper foil.
Repair method 5 for digital torque wrench
1. When repairing problems in a humid environment, it is necessary
to measure the smoothness of various points on the circuit board with a multimeter.
Due to the main problem in this situation being copper foil corrosion,
we can use industrial alcohol with a content of 95% to clean and wipe
the corroded circuit board, in order to avoid causing greater corrosion.
When inspecting the internal circuit of the digital torque wrench,
if the contacts of the installed components and
the circuit board are coated with absolute green varnish.
Why Choose SAIVS™ as Your Supplier?
1.Superb Quality Control Management
At SAIVS, we take pride in our perfect quality management systems and procedures, which guarantees the excellent performance of all our tools, being a professional tool manufacturer in China.
2.Rich Production Experience
With 20 years of experience in production, SAIVS has a deep understanding of the market and trends, and strives for continuous research and innovation. This has created advantages in both the product's performance and appearance.
3.Competitive Prices
As a Chinese factory committed to becoming the most cost-effective tool exporter in China, SAIVS provides high-quality products at advantageous prices. By lowering costs and increasing efficiency, we ensure that our customers receive the best possible value for their investment.
4.Perfect After-sales Service
At SAIVS, we strive to provide superior customer service that meets and exceeds expectations. We are always available for any questions or concerns you may have, and we stand by our commitment to providing excellent after-sales support.