Single-acting, high strength spring return, easy to use.
Hollow plunger design allows for both,pull and push forces.
Dual dust-proof ring structure remains cylinder internal cleaning.
The exclusive guide Ring is designed absorbs eccentric loading without galling cylinder parts,reduces wear and extending life.
Special painted surface to increase corrosion resistance.
Easy fixturing with collar threads,plunger threads and base mounting holes.
All model include quick couplings (NPT3/8"-18) and dust-proof cap.
Floating center tube is designed to increase product life.
Customizable with special requirement.
Selection appropriate pumps for offer optimum combination
Select SAIVS high quality high pressure hoses.
Pressure Display Unit ( Optional ) on pressure gauges.
Hollow Plunger Hydraulic Cylinder Ram is used for lifting. It has large output force, light weight, can be used in any space, and can be used at any distance. With the super high pressure oil pump of our company, it can realize many kinds of operations, such as topping, pulling, pressing, squeezing, pushing and so on. It is widely used in foundation detection, transportation, railways, bridges, subway, construction, factories,mines and other industries.
Customizable to meet the needs of different customers.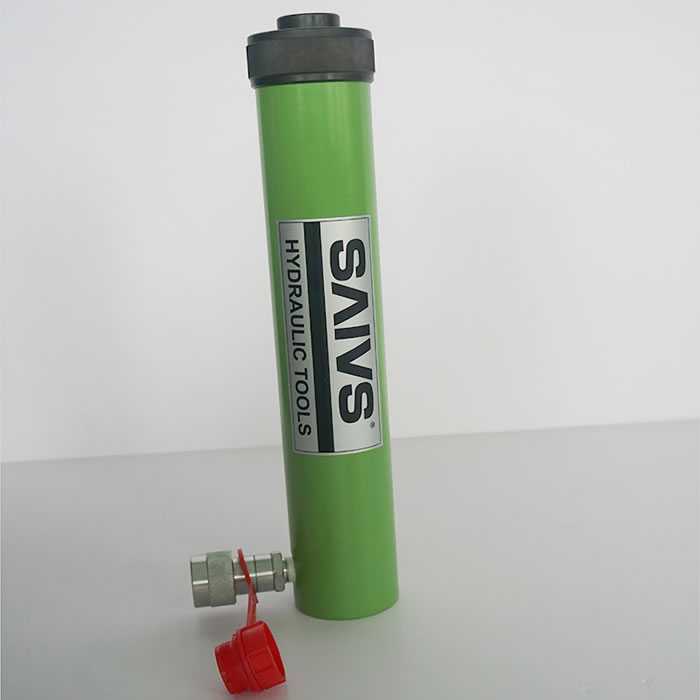 Looking for perfect replacements and alternatives to all Enerpac product series? Look no further! We offer a wide range of hydraulic tools that can perfectly replace and correspond with all Enerpac products.
Our hydraulic tools including hydraulic cylinders, pumps, jacks, torque wrenches, and other hydraulic equipment boast unparalleled performance, reliability, and durability. They are designed to meet and exceed Enerpac's quality and safety standards.
With our products, you will find the same quality and performance as Enerpac's products but at a more affordable price. So why pay more when you can have the same quality and performance at a lower cost?
We take pride in providing high-quality hydraulic solutions that fit your needs and budget. Contact us today and get started with our hydraulic products and services that will take your operation to the next level!
Application:
These jacks help support and position critical structural elements during construction, ensuring proper alignment and safety.
Mobile homes and trailers can be leveled and raised for foundation repairs or relocation using Hydraulic cylinder jacks.
Event organizers use hydraulic cylinder jacks to adjust the height of stages and platforms for performances and presentations.
Aircraft maintenance crews rely on hydraulic cylinder jacksto raise aircraft for inspection and repairs.
Hydraulic cylinder jacksassist in lifting heavy materials to build retaining walls, ensuring proper alignment and stability.
Agricultural equipment can be adjusted to the correct height for various farming tasks using hydraulic cylinder jacks.
Hydraulic cylinder jacksaid in positioning molds and dies in manufacturing processes, ensuring accurate product production.
PROVIDING EXCELLENT SOLUTIONS BY SAIVS™
You're fortunate to have found a manufacturer, supplier, and factory in China, Ningbo SAIVS Machinery Co., Ltd.,
that offers a diverse selection, reasonable price,fast delivery, and products of comparable quality and performance to Enerpac's RCH Series Single-Acting Hollow Cylinders.
Please send an email immediately with information regarding the "RCH Series Single-Acting Hollow Cylinders" You will receive our response within 24 hours.