Electric pump motor with light weight aluminum reservoir, and integrated heat sink for easy cooling .

Two-speed design reduces cycle times for improved productivity.
Built-in safety valve to prevent overloading.
Externally adjustable relief valve allows control of operating pressure without opening the pump .
Different flow control valve and cooler fit harsh industrial environment.
Protection circuit is designed to avoid current overload, prevent the damage to pump motor.
High strength molded shroud protects the electrical componentsclass motor from contamination and damage. Easy to carry and lift.
Equipped with liquid level temperature display.
Perfect compatible with middle power and big size (doubleacting & single-acting) cylinders or other hydraulic tools .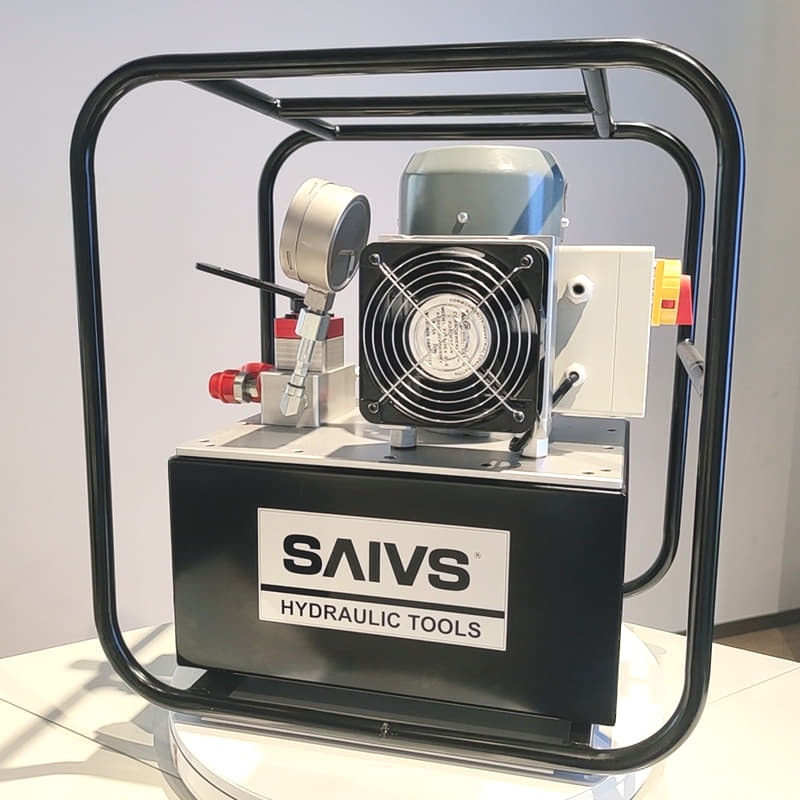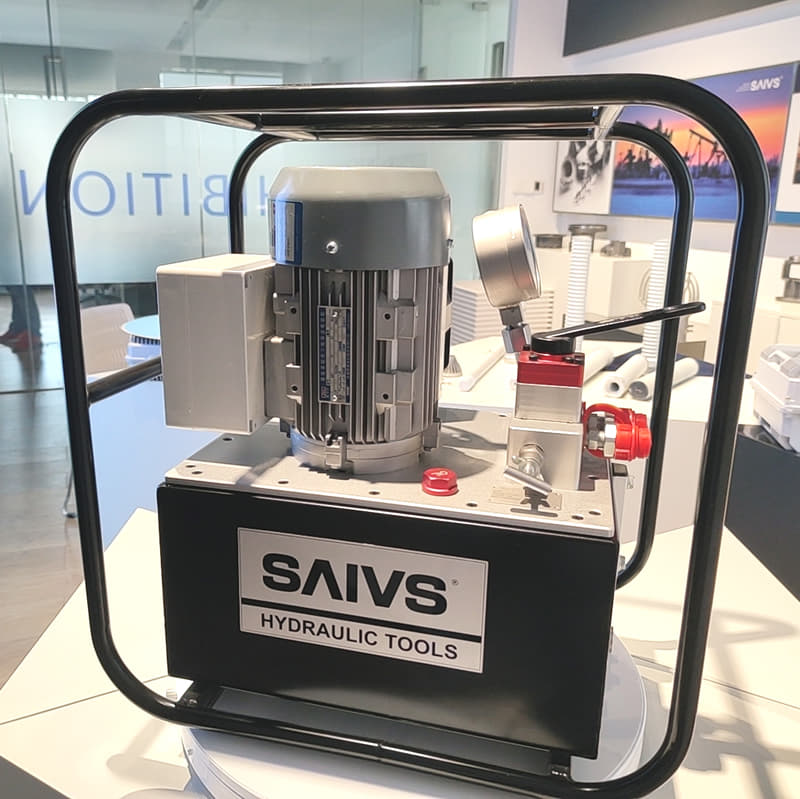 Electric Pump Systems matches large Hydraulic Cylinders and other hydraulic tools of single and double action.
Ordering Example:
Model: PE25 - T380/50 - 40VM43M - K
S220/50 = Single Phase, 220V: 50HZ
T380/60 = Three Phase, 380V: 60HZ
The Power choice depend on the difference working situation.
Represents P series of electric hydraulic pumps, whose input power is single phase 380V/50HZ; reservoir capacity is 40L, With VM43M by-pass three-four-way manual reversing valve and cooler.
Please check the ordering instructions of P series pumps for details.
SAIVS's P series pump is new super higher pressure pump pack, it use advanced manufacturing techniques, with longer working life and smooth pressure. It suitable for all kinds of hydraulic tools, provides hydraulic power, as per the working situation.
PROVIDING EXCELLENT SOLUTIONS BY SAIVS™
if you are looking for factory manufacturers and suppliers of PE15 PE25 Series Oil Gear Electric Pump,
choose SAIVS TOOL because of the high quality, variety of choices, low price and fast delivery.
you can easily find the best PE15 PE25 Series Oil Gear Electric Pump solution here!
Speak to one of our experts today to learn more about our PE15 PE25 Series Oil Gear Electric Pump products solutions.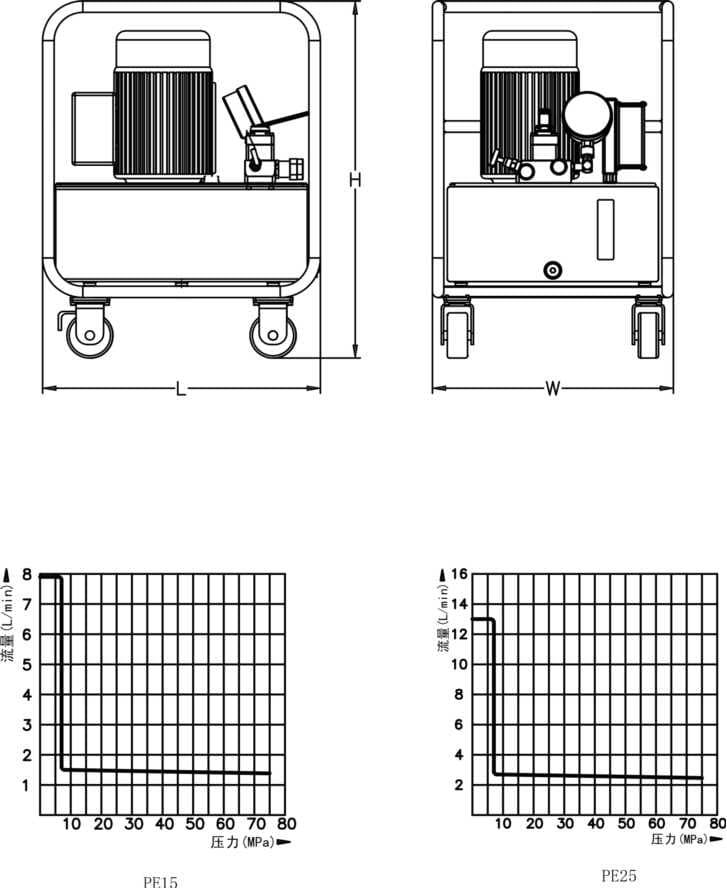 Model Number
Oil Flow (L/min)
Pressure (bar)
Power
Usable Oil Capacity
Input Power*
Weight
Dimensions
High Pressure
Low Pressure
High Pressure
Low Pressure
(KW)
(L)
(kg)
LXWXH(mm)
PE15
1.5
8
700
70
2.2
40
200V-575V 3Ph
50HZ/60HZ
65
605*525*790
PE25
2.2
9.3
700
70
3
40
200V-575V 3Ph
50HZ/60HZ
66
605*525*790
what is an oil gear electric pump?
answer: an oil gear electric pump is a type of hydraulic pump designed to provide fluid power to hydraulic equipment. it uses an electric motor to drive the gears or pistons that move the hydraulic fluid through the system.
how do i choose the right oil gear electric pump for my application?
answer: choosing the right oil gear electric pump will depend on several factors, including the required flow rate, pressure rating, and motor specifications. it's important to consult with the manufacturer or a hydraulic systems expert to ensure that the pump meets the specific needs of your application.
do oil gear electric pumps require regular maintenance?
answer: yes, regular maintenance is required for optimal performance and extended lifespan of oil gear electric pumps. maintenance tasks may include checking and replacing filters, cleaning, and lubricating the moving parts.
are oil gear electric pumps noisy?
answer: the noise level of an oil gear electric pump can depend on the model and manufacturer. while they can sometimes produce noise levels above acceptable limits, many manufacturers offer noise-reducing options such as sound enclosures or vibration isolators.
can oil gear electric pumps be used with any type of hydraulic fluid?
answer: oil gear electric pumps are generally compatible with a variety of hydraulic fluids, including mineral oils, synthetic oils, and biodegradable oils. however, it's important to ensure that the hydraulic fluid being used is compatible with the materials used in the construction of the pump to avoid damage or failure.
Very good customer service, highly recommend
Very good customer service, highly recommend
From:
Sven
|
Date:
2023-05-26
An excellent supplier. Recommended.
An excellent supplier. Recommended.
From:
John Noel
|
Date:
2023-02-19
Was worried it was gonna be junk because it was so cheap
Was worried it was gonna be junk because it was so cheap, but when I received it I realized it was high quality. Will buy another one soon.Best bang for your buck.
From:
Jan
|
Date:
2023-05-22