Single-acting,load return.
Low profile design,fit in narrow application area.
Special painted surface to increase corrosion resistance.
Lock nut ensure the safety of long time load holding.
All model include quick couplings (NPT3/8"-18) and dust-proof cap.
Overflow port function could limit the stroke.
Removable hardened grooved saddles.
Customizable with special requirement.
ALL CLP-Series cylinders include integral tilt saddles with maximum tilt angles up to 4°.
Select SAIVS high quality high pressure hoses.
For longer stroke applications CLL-Series Lock-Nut Cylinders are the perfect choice.
How to choice the Hydraulic Cylinder and attachment?
Step 1: Choice the hydraulic syliner suitable for the working situation;
Step 2: Choice the hydraulic pump suitable for the cylinder and the working situation;
Step 3: Choice the hydraulic attachment;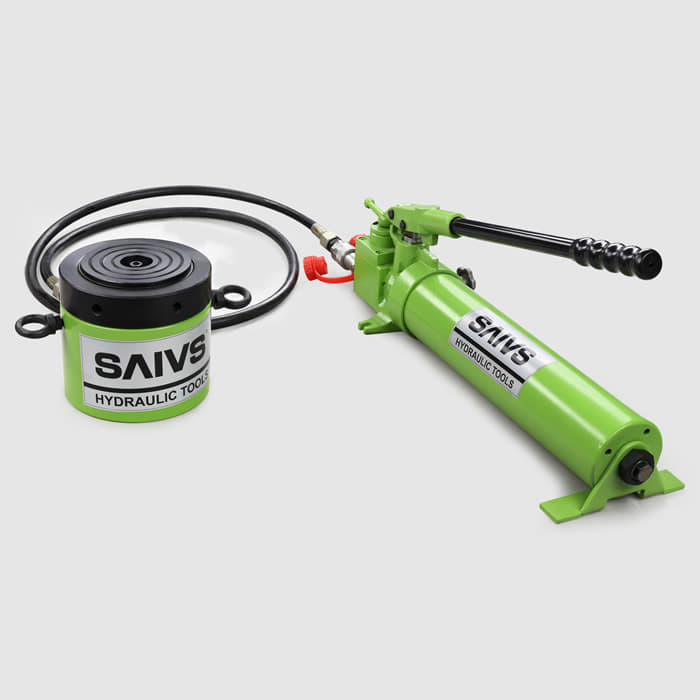 How to choice the hydraulic cylinder's condition ?
Double-acting series cylinders with hydraulic check valve.
Whether need working at narrow space,
Make sure the fuel capacity of hydraulic cylinder,
Whether need several cylinders are used together,
Whether need hydraulic cylinder with partial load work,
Whether need several hydraulic cylinders are working together,
Whether need keep the loading with long time,
Fuel capacity (cm)=The active area of cylinder X the stroke of cylinder (cm).
Whether need the steel stick or cable through off the hydraulic cylinder,
Choice the Hollow hydraulic cylinder ( RCH, RRH seris ).
The stress of cylinder(the rated pressure of cylinder is 20% more than actual loading capacity.
Whether need control with jack up and pull back,
Choice Tiltable saddle.
Choice the low flat hydraulic cylinder ( RCS, RSM, CLP series ).
Choice lock-nut hydraulic cylinder (CLP, CLL series)
Choice Synchronous Lifting System ( SPHF, SPHP series ).
Make sure the point quantity of jack up.
Height and stroke of cylinder requirement,
Which way of the cylinder use for,
Choice the correct height and stroke of cylinder according to the working situation.
Single-action only use for jack up, double-action can use for jack up and pull back.
Cylinder force ( kg )=Active area of cylinder ( cm ) X Hydraulic pump Pressure ( bat )
Application:
Construction equipment often requires precise positioning for maintenance and repair tasks, and hydraulic cylinder jacks provide the necessary lifting capability.
Wind turbines require periodic maintenance, and hydraulic cylinder jacksenable technicians to reach and service these towering structures.
Welders use hydraulic cylinder jacksto accurately position heavy workpieces for welding tasks, ensuring precision and safety.
Shipping yards use hydraulic cylinder jacksto load and unload heavy shipping containers from trucks and ships.
Agricultural equipment can be adjusted to the correct height for various farming tasks using hydraulic cylinder jacks.
Hydraulic cylinder jacks are employed to lift and level portable structures like cabins and modular buildings.
In the renewable energy sector, hydraulic cylinder jacks are used to position and adjust solar panel arrays for optimal sun exposure and energy generation.
PROVIDING EXCELLENT SOLUTIONS BY SAIVS™
You're fortunate to have found a manufacturer, supplier, and factory in China, Ningbo SAIVS Machinery Co., Ltd.,
that offers a diverse selection, reasonable price,fast delivery, and products of comparable quality and performance to Enerpac's CLP Series Single-Acting Low Profile Lock-Nut Hydraulic Cylinder.
Please send an email immediately with information regarding the "CLP Series Single-Acting Low Profile Lock-Nut Hydraulic Cylinder" You will receive our response within 24 hours.