Double-acting cylinder version for fast retraction.

Hollow plunger design allows for both,pull and push forces.
Dual dust-proof ring structure remains cylinder internal cleaning.
The exclusive guide ring is designed absorbs eccentric loading without galling cylinder parts,reduces wear and extending life.
Built-in safety valve prevents accidental over pressurization.
Special painted surface to increase corrosion resistance.
Easy fixturing with collar threads,plunger threads and base mounting holes.
All model include quick couplings (NPT3/8"-18) and dust-proof cap.
Floating center tube is designed to increase product life.
Customizable with special requirement.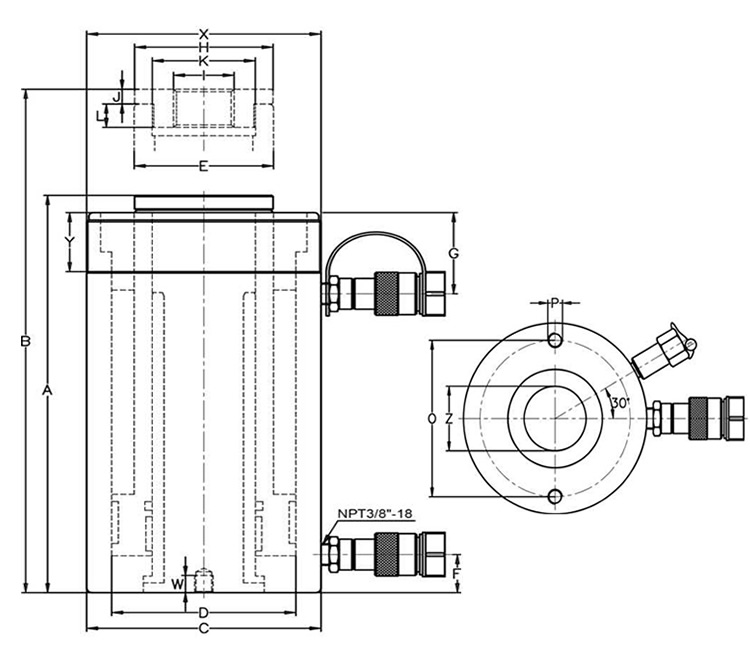 Pump Selection
Selection appropriate pumps for offer optimum combination .For details, please refer to the section "hydraulic pumps".
Hoses
Select SAIVS high quality high pressure hoses. For details, please refer to the section "Hydraulic Components".
Application:
These jacks help support and position critical structural elements during construction, ensuring proper alignment and safety.
Hydraulic cylinder jacks are used to position bridge sections and beams during construction, allowing for accurate alignment and secure installation.
Automotive mechanics use hydraulic cylinder jacks to raise cars and trucks for various repair and maintenance tasks.
Wind turbines require periodic maintenance, and hydraulic cylinder jacksenable technicians to reach and service these towering structures.
Aircraft maintenance crews rely on hydraulic cylinder jacksto raise aircraft for inspection and repairs.
Shipping yards use hydraulic cylinder jacksto load and unload heavy shipping containers from trucks and ships.
Elevator systems require periodic maintenance, and hydraulic cylinder jacks are employed to lift and secure elevator cars for inspection and service.
PROVIDING EXCELLENT SOLUTIONS BY SAIVS™
You're fortunate to have found a manufacturer, supplier, and factory in China, Ningbo SAIVS Machinery Co., Ltd.,
that offers a diverse selection, reasonable price,fast delivery, and products of comparable quality and performance to Enerpac's RRH Series Double-Acting Hollow Cylinders Jack.
Please send an email immediately with information regarding the "RRH Series Double-Acting Hollow Cylinders Jack" You will receive our response within 24 hours.