Model Number:ZCW-2100
Rated Voltage:220-240v
Max power consumption: 1200w
Max torque: 2100N.m
Main body weight:7.5KG
Ro speed(r/min): 10
Aaptable bolt dia: M27, M30
Protection level: double insulation
Controller: Built-in controller
High Strength, can tight higher strength bolt, like A490.
Each wrench provide 2 sockets, one of them will be set on the wrench
The Electric Shear Wrench used in fasting various types of high strength bolts of various steel structure industry.
A fixed torque electric wrench can set and adjust torque, also known as a torque adjustable electric wrench.
The host adopts a double insulated single-phase series excitation high-power motor, with excellent output
power to weight ratio. The professional gearbox design and torque control device have high precision, strong stability,
small size, light weight, no impact force, no reaction force, improved work efficiency, and reduced labor intensity.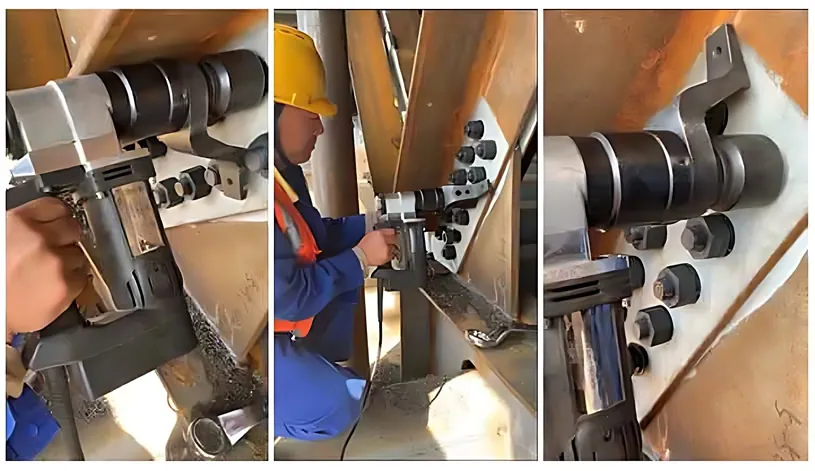 PROVIDING EXCELLENT SOLUTIONS BY SAIVS™
if you are looking for factory manufacturers and suppliers of ZCW-2100 Fixed Torque Electric Shear Wrench,
choose SAIVS TOOL because of the high quality, variety of choices, low price and fast delivery.
you can easily find the best ZCW-2100 Fixed Torque Electric Shear Wrench solution here!
Speak to one of our experts today to learn more about our ZCW-2100 Fixed Torque Electric Shear Wrench products solutions.